Saturday, June 5, 2010
Just emailed Texas Darlings my flip flop info! Hope you check her blog out and do the same!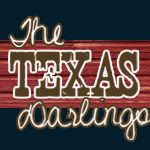 ~Just Jen
Posted by

~ Just Jen
at 8:31 PM
2 comments:
Links to this post


Tuesday, June 1, 2010
For the very first time ever....WOO HOO!
This gives me inspiration to blog more....and to craft more!!
Thanks, Veronica!
~Just Jen
Posted by

~ Just Jen
at 11:12 AM
No comments:
Links to this post